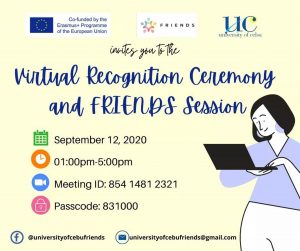 The University of Cebu community was pretty excited on Saturday afternoon, September 12, 2020 at 1:00 PM to witness the very first virtual recognition ceremoy of FRIENDS IACD MOOC and Session 2.0 in the university's history. The event, formally titled, " FRIENDS Virtual Recognition Ceremony and Session 2.0", was live streamed via the Official Facebook Page reaching the homes of its 247 IACD MOOC Graduates. Replay can be viewed at the University of Cebu FRIENDS Youtube channel (https://www.youtube.com/watch?v=4paXNyPlAfM).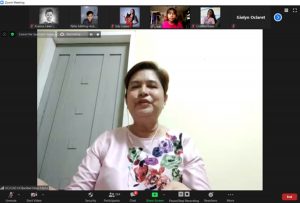 Screenshot of University of Cebu Vice Chancellor For Business Development & Innovation's Opening Remarks by Dean Ofelia G. Mana via Zoom.
The said online event was opened by Dean Ofelia G. Mana, the University of Cebu's Vice Chancellor for Business Development and Innovation. Those wo attended virtually got to know the gist of FRIENDS Project, as the program includes the observations and reflections from IACD MOOC Batch 1 amidst the backdrop of the COVID-19 pandemic.
The online event also announced the top 5 winners of the Digital Storytelling for Batch 1, who the top 4 will participate an all expense paid Bootcamp in Bulgaria and will receive FRIENDS SWAG merchandise. The top 5 are as follows:
| | | |
| --- | --- | --- |
| | NAME | Digital Storytelling Entry Title |
| 1. | Shilah Micah Agacita | How I Became and ESL Teacher? |
| 2. | Marius Eldrid Bohol | A Lens Living through Culture Diversity |
| 3. | Earl Marie Regulacion | Behind the Screens |
| 4. | Nhoaven Rameso | ESL Teacher Encounter |
| 5. | Aljens Agbay | Colors |
"Participating in the FRIENDS Exploitative Activities will be more crucial than ever", as said by Mr. Francis Jose Lean L. Abayata, the Student Affairs Officer of University of Cebu – Banilald Campus. He believed that University of Cebu through FRIENDS Project will produce great leaders-in-the-making, and soon it would be hopefully be their time to recognized in their fields of expertise. He advised the attendees, "Excellence in the academic field will not suffice without the accompaniment of intercultural competence. Accompaniment as such means able to be sensitive, apprecitate diversity, and watching each others' backs.
Dean, Chairpersons, and Department Heads also graced the recognition ceremony. They showed their utmost support when Dean Ofelia G. Mana advised everyone, "This year shall forever be rememebrd as the time of the COVID-19 Pandemic. There are difficult and daunting challenges. As such, more reason for the University of Cebu to provide accessible quality education with the help of FRIENDS Project."