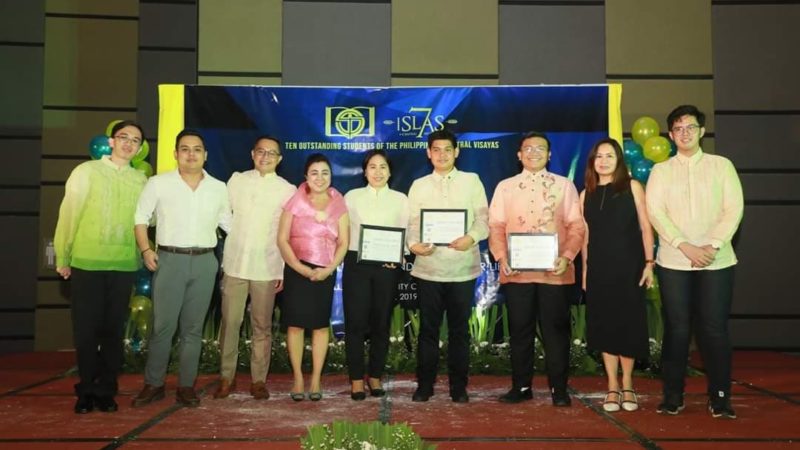 Four out of ten accomplished graduates of Region VII were from University of Cebu. They were honoured during the announcement by the Regional Screening Assembly held at the SM CEBU SRP last May 25, 2019. They will proceed in the national TOSP Search.
Two from University of Cebu – Main Campus were represented by Mr. Junryl Judilla Tan (BS Civil Engineering, Cum Laude) and Ms. Shyra Marie Miñoza (BSBA – Management Accounting).
Mr. Marc Lennard Colina (BS Information Technology, Magna Cumlaude) and Mr. Niño Jan Miole (BS Nursing) represented University of Cebu – Banilad Campus.
Mr. Tan worked as Sangguniang Kabataan treasurer at the same time works as tanod (village watchman) of Barangay Kalubihan in Cebu City. He proved that poverty is not a hindrance to achieving great things when he graduated with latin honors.
Ms. Miñoza inspired many students of University of Cebu for her uncompromising commitment to the task of making projects and plans for Barangay Guba, Cebu City. She is the current SK Chairperson of Barangay Guba and used her influence to construct 10 toilet rooms in Sitio Payahan, Guba , Cebu City a possibility.
The mood in the venue changed when Mr. Colina's message was shown on the screen by the Search Committee wherein he highlighted the importance of recycling papers using technology. With his project, R's EARN (A Reverse Paper Waste Vending Machine), it reverses the paper and then auto generate codes that could amount to rewards which can be claimed through mobile application. With this, the school can monitor each bin, through Internet of Things technology, and also monitor the people who are claiming the rewards.
Mr. Miole showed how he applied his expertise towards uplifting the communities by empowering them through NutriVention (Nutritional Intervention) and TaMa (Tabang Kay Mama) Initiative.
After their names were called, the four of them were basked in the applause of family, friends, colleagues, and members of the TOSP Community who gathered to recognize their excellence in academic, leadership, and social responsibility efforts.