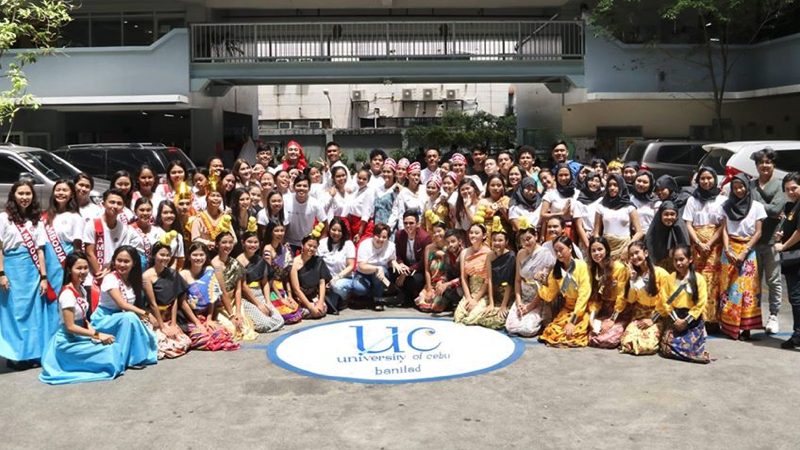 CEBU CITY — Students from the College of Tourism showed their talents as they participated in the launching of the FRIENDS Tambayan last March 06, 2020. The FRIENDS Tambayan ran from March 6 to March 13, 2020. It is an activity aimed to let students express themselves in terms of international concepts and engaged them in a healthy discourse of intercultural competence and civic responsibility through culture and arts. The FRIENDS Tambayan is one of the activities under the partnership project of the European Union and University of Cebu. The said project is FRIENDS (Furthering International Relations Capacities and Intercultural Engagement to Nurture Campus Diversity and to Support Internationalisation at Home).
According to Dean Ofelia G. Mana, Vice Chancellor for Business Development and Innovation, a committee planned the FRIENDS Tambayan last February 2020. She added that it gives importance to arts and culture as medium for mutual understanding of the domestic and international students.
"This is a big thing to our students, especially our students who enrolled in the College of Tourism for they will be able to see the significance of their civic responsibility through arts and culture," as said by Miss Edilyn Lopez, a teacher of the said college.
Three sections participated by showing the crowd their performances and exhibits of the countries' culture that are part of FRIENDS like Bhutan, Bulgaria, Malaysia, and others.
Further, it is the responsibility of the university to hone the students in terms of internationalization in order to realize the graduate attributes, according to Ms. Teena Hernaez-Gomos, the coordinator of the said project in University of Cebu
As rewards, the said university gave SWAG (stuff we all get) items to deserving students who performed well during the event.