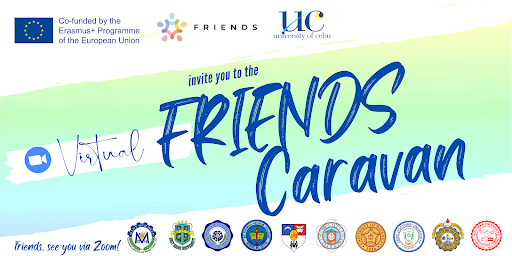 VISAYAS, Philippines — Numerous students from Holy Name University in Bohol, Saint Thomas Aquinas College and Southern Leyte State University in Southern Leyte, and Mary Our Help Technical Institute for Women, Inc., in Cebu City are requested to attend an hour-long University of Cebu – FRIENDS (Furthering International Relations Capacities and Intercultural Engage to Nurture Campus Diversity) virtual caravan by their administrators.
With the goal to inspire and spread awareness of the FRIENDS Project while encouraging them to love their own culture, the University of Cebu held the virtual caravan in the aforementioned selected schools last November 15 – 30, 2021.
In every university visit, there was a discussion of the FRIENDS IACD MOOC, where faculty and students got to know what it was like in accessing the MOOC in the FRIENDS website.
The attendees were entertained by virtual games with load prizes, and presentation of the University of Cebu students' digital storytelling entries.
"This caravan is one of the key outputs of the FRIENDS Project and is based on the principles of diversity and complementarity," Dean Ofelia G. Mana said in her welcome remarks.
Among the numerous schools in the Visayas region, Dean Ofelia G. Mana extended her gratitude to the selected schools which accepted the invitation to hold this year's FRIENDS caravan.
"I am very grateful and humbled that you allot an hour of your busy schedule. The generosity and collaborative spirit that you have shown here will be the start of our future partnerships," as said by Miss Teena Hernaez-Gomos, the University of Cebu's International Linkages Coordinator.
With the successful outcome of this year's caravan, the University of Cebu will definitely host another FRIENDS caravan for the year 2022.
The participating schools next year can look forward to interesting discussion and surprising digital entries of IACD passport holders of the University of Cebu.